Loved by Singapore's Media

"If you're looking to recreate some of the magic of the cinema in the comfort of your own home theatre, the LUMOS Auro is available."

"LUMOS Auro is a full-sized home cinema with vivid colors, high contrast levels and Dolby Surround Sound."

"Go Smart or Go Home. LUMOS has launched their 1080p native resolution projector, the Auro, at a every attractive price point."

"Goodbye smol phones & laptops, for the LUMOS Auro Projector will bring new meaning to staring blankly at your room's walls on weekends."

"What I like about LUMOS Auro that it is great for small rooms, ensuring a projection size of a 90-inch display with only a 2.9m distance needed.."

8.2/10! "LUMOS Auro is the perfect addition to your homes. Bringing the cinematic experience home is more accessible and affordable than before."

"It's great to see a Singaporean brand coming up strong in this competitive market place! The best news? You need zero technological skills to install LUMOS Auro."

8.8/10! "What really blew me away was the impressive audio quality out of the box. LUMOS Auro is a top-performing "media center" rather than just a projector."
"Dishing out impressive specs despite its $299 price tag, it's little wonder that the LUMOS Auro sold out within minutes of launch."

4.7/5! "LUMOS Auro nails the basics of a good display and quality, with the 'Smart' version offering you for capabilities to stream your content from the projector itself."

"What attracted me to the LUMOS Auro is the price. Given the price range, the audio and video quality of the LUMOS Auro is actually good and value for money."

"A 100% local home-grown company with 1 year local warranty. We think this may be the best projector in Singapore!"


"The LUMOS Auro gives you true 1920×1080 pixel resolution. The is exactly the image resolution that DVD and original Blu-ray movies were designed for."

"This LUMOS Auro got Netflix, Youtube, can play game & sing K. We thought its like S$1,200 sia. Can be a very good gift or present for friends."

"With it's small size and smart capabilities, the LUMOS Auro is an awesome portable gadget to invest in to share with family and friends."

"LUMOS Auro is easily one of the best home projectors in Singapore that will give you great bang for your buck.."

"Super easy to create your dream theatre or gaming room with LUMOS Auro. No wonder they have so many 5 star reviews!"

"Sick of watching Netflix on your small laptop screen? We found LUMOS Auro that could potentially solve your small-screen problems!"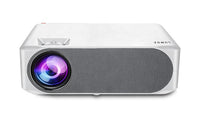 An Unbelievable Price Point for a Top-Performance Projector
Priced 50% lower than major brands, 1080p (Blu-Ray FHD) resolution, 150" Display with 6000 Lumens, the LUMOS AURO home projector is a real game-changer for its trail-blazing price-performance value.
Shop Now
Witness Brilliance First-Hand
A World of Difference with 1080p
With 1080p, it is 2.25x clearer than standard 720p projectors, and that means a whole new level of image clarity and sharpness that brings graphics to life.
300" of Pure Visual Immersion
A jaw-dropping massive cinematic screen before you in 1080p Blu-Ray crystal-clear supported resolution - that's how movies, games and videos should be indulged in at home. A pure visual enjoyment.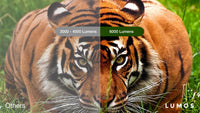 6000 Lumens for Rich & Vivid Graphics
Unlike standard projectors with 2000-3000 Lumens that creates a washed-out screen, AURO comes with double the lumens. That means vivid graphics and color that you can enjoy to the fullest.
A Projector That Is Smart
In-built with Netflix, Youtube and Kodi, get tons of videos, shows and movies at your disposal. Additionally, it can be connected with a multitude of devices - phone, console like Nintendo Switch, PC, soundbars and more. All-in-one.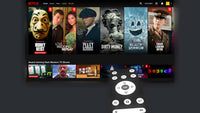 The LUMOS Brand
We are a proud home-grown local Singaporean brand which strives to bring the best quality projectors - home projectors, cinema projectors, business projectors, mini projectors at market-breaking prices. We offer full 1 year local warranty and dedicated customer support. You can reach out to us for further enquiries and we'll be more than happy to serve you.